An image moderation API
to secure your social media platform
Inappropriate user generated images can hurt the reputation of your service. If you manage a social media, a dating website or application, you will find in PicPurify the perfect image moderation system to detect and ban shocking pictures in real time.
Keep your website fun and safe
Our image moderation API was created to automatically ban any irrelevant picture from your platform. In this way, you can preserve your community from any inappropriate content, keep your reputation intact and increase your user base. PicPurify uses the most advanced technologies to analyze the pictures posted by your users. It can therefore detect the harmful ones and filter those containing :
pornography

nudity

violence

drugs

weapons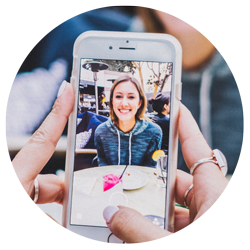 Our algorithms also recognize and block duplicated images so you will preserve your website from any fake profiles and dubious activities. Plus, we can easily adapt our solution to your special needs. Feel free to contact us to explain them in more detail!
A cost effective way to moderate user generated images
It takes just 0.1s to analyze a picture posted on your social media or dating platform, with an accuracy rate of 95%. You can therefore classify a larger amount of content while slashing your moderation cost (95% of manpower saved). In addition to ensuring your community's safety, PicPurify also enables your image moderation process to gain in speed and productivity.
Interested ?
If you want to see PicPurify's efficiency for yourself try our online demo.
Plus don't hesitate to check our prices and sign up !